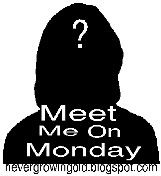 1. What is your favorite kind of fudge?
Why are these always multiple-answer questions?! There's chocolate peanut-butter, orange creamsicle, mint, GOOD chocolate with nuts, blah blah blah.
1/25 Note: Quite a few people have commented about the orange creamsicle fudge. It probably came from The Candy Kitchen in OC, MD. However, it was basically a layer of vanilla fudge with a layer of orange fudge on top. Not to hard to make probably.
2. Is there snow outside your window?
Nope. All gone.
3. What is your favorite meal of the day?
Probably a good breakfast... at dinner time.
4. Do you text on your cell phone?
Nope. I barely use my cell phone at all actually. Don't like it. BUT I would like to get an iPhone to keep the Boy occupied when we're stuck waiting places.
5. Waffles or pancakes?
Again, tough one. A good pecan waffle vs. a good blueberry or chocolate chip pancake... who's to say.