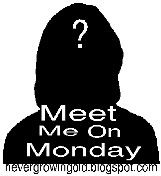 1. Do you have any New Year's resolutions?
I'm resolving to move forward this year (see my
previous post
if you want the real skinny on this one.) I'm also going to start doing more crafting and try some new crafty things out. Time to spread my wings a bit again- it's been a while.
2. What food item are you craving right now?
Actually, nothing. It's 1 in the morning and I'm just not hungry. Thirsty, yes. Hungry, no.
3. When is your birthday?
May and this is the big four-oh this year. Another reason for #1.
4. What were you doing an hour ago?
Working on my Jan. One Little Word page. I'm pretty happy with it and where I went with it. It really isn't like anything I've put together before. It's not big but it's a start. I'd love to show a picture here but I'll take a few when I finish up- hopefully tomorrow.
5. Last thing you cooked?
We had some NJ friends and her parents over yesterday evening for a NY's get-together so I went a bit crazy. We had sausage/cocktail rolls, spicy chicken dip, baked artichoke dip, pigs in a blanket, pumpkin cake w/ caramel frosting, veggies w/ dill dip, and about 7 kinds of cookies and 4 kinds of candy I'd made and froze in early Dec. I was so happy to get it all made just a bit after they got here and amazed I had it all cleaned up about an hour after they left.