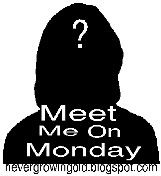 1. Did you watch the Superbowl?
Watching is a loose term. I was in the same room where the TV was on and the Superbowl was showing. Did I watch it? No. Did I pay attention to the Soduku game I was playing on the computer? Yes? Did I look up for the commercials? Ocassionally.
2. What is the last book that you read?
A Song for Arbonne by Guy Gavriel Kay. LOVE his stuff.
3. What is your favorite kind of cake?
Yeah. Right. One kind. Chocolate w/ pb or fresh strawberry icing, pumpkin spice w/ caramel, tunnel of fudge, Kentucky Butter... As long as it's not out of a box, there's a good chance I'll like it.
4. Do you snore?
Unfortunately. I REALLY gotta lose this weight!
5. Do you play an instrument?
I had to take piano lessons as a kid. Hated them (hated the music assigned to me at lessons the most.) I wish now I remembered how to play but I also know, accept and even agree with the reasons I quit.