OK, OK. It's Tuesday. You'll have this.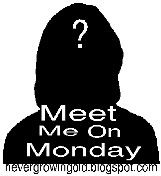 1. What is your favorite dessert?
Once again, there's no one right answer. There are lots of different cakes. There's fruit pizza (Rice Krispie treats crust, cream cheese "sauce", lots of sliced fruits, all covered with a lemon glaze!). There are more pies than I'll mention (though the fluffy, frozen strawberry one SHOULD be mentioned!) I could go on. Really. I could!
2. What do you wear to bed?
Usually, a pair of my husband's retired shorts and a tshirt. Occasionally a pair of real pajama pants. Occasionally.
3. Do you get regular manicures/pedicures?
hahahaha. I've had one manicure in my life. I can't justify the cost when I'm going to chip the polish off in a day or two.
4. Did you play any sports in high school?
I was rather anti-sports since I'm far from athletic.
5. Do you have an iPod?
I wouldn't have bought one but I won my first one at my old job. Now, the day it dies, I'm off to the Apple store to get a new one. LOVE it!