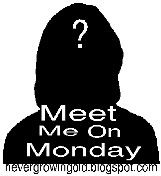 1. What is your favorite holiday?
It's a bit strange. While I'm not a religious person, I love Christmas- the baking, the presents for everyone, the general good feel that's around, the decorations, the cold air, all of it! However, I also have a Halloween addiction. When I look at scrapping supplies, I always end up drooling over the Halloween papers and accessories. Personally though, I've never REALLY been trick-or-treating (the mall doesn't count) which has always made me a bit sad. ToT for my son is a big priority for me- I don't want him to miss it.
2. What color clothing do you wear the most?
There's not one color. Sorry. I've got a rainbow wardrobe.
3. What is your heritage?
I'm a bit of a mutt on one side- English, German, French, etc. but I could apparently be a Daughter of the American Revolution on the other.
4. What is your middle name?
Linn. My parents are all about history so I was named Jennifer Linn after opera singer Jenny Lind. Too bad I didn't get a whit of that talent. Oh well, if I'd been a boy, I would have been teased mercilessly for my association with a furniture store: Ethan Allen.
5. What is your favorite cookie?
Oh yeah. Like there's one. PLEASE! Really, as long as it's not a chocolate chip cookie, it's probably a fav. Today, I'd say lemon bars are high. Tomorrow, there's snickerdoodles, peanut butter, chocolate peppermints, and and and.